Indian bridal jewelry styles have seen an apparent change in the last few years, with many women choosing modern minimalism as a chic and modern choice for their wedding jewelry. Indian bridal jewelry has always been distinguished by its extravagance, complexity, and quantity of gold, jewels, and intricate patterns. However, the emergence of modern minimalism has changed the way brides think about their wedding jewelry, emphasizing subtle beauty and minimalism.
Let's explore the realm of modern minimal bridal jewelry and learn how to pull off the look.
Understanding minimalism in Indian bridal jewelry
Indian bridal jewelry that is minimalistic is a break from the country's customarily extravagant and ornate styles. While retaining the traditional significance and importance of jewels in Indian wedding attire, it symbolizes a more restrained and subtle approach. Therefore, if you're getting married and want something chic and contemporary, minimal bridal jewelry is for you.
Why do you need minimalist Indian bridal jewelry?
Simplicity and elegance
The charm of simplicity is what modern minimalism is all about. In this design, Indian bridal jewelry may be simple and elegant, highlighting the allure of bare gold or platinum. A beautiful harmony between heritage and contemporary may be achieved with necklaces, earrings, and rings that have exquisite designs.
Emphasis on craftsmanship
Quality and workmanship are not sacrificed in modern minimalist jewelry. Instead, it highlights each piece's artistic talent and meticulous focus on precision. This form of Indian bridal jewelry is preferred by brides who want their jewelry to be of the highest quality and display immaculate craftsmanship. We provide you with pieces that are meticulously crafted and meticulously finished by our expert artisans.
Customization
Modern minimalist brides frequently appreciate individualized accents in their jewelry selections. By having the flexibility to choose items that fit their particular tastes and styles, they may form a special and intimate bond with their bridal jewelry. If you're looking for customization services then we provide alloy, gold, and sterling silver customizing choices so that brides may add their touches to the jewelry they select.
Highly versatile
The ability of jewelry to be worn other than at weddings is one advantage of modern minimalist Indian jewelry. Brides may enjoy and use their bridal jewelry for many years since the items are so easily interchangeable for both formal events and daily usage.
How to nail a minimal jewelry look?
Delicate maang tikka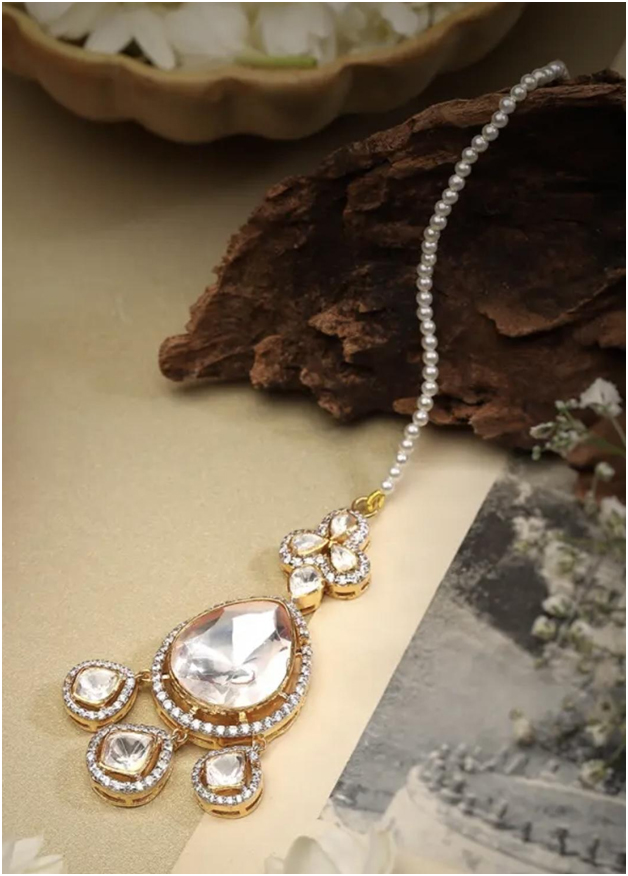 Incorporating understated and elegant accents that highlight your attractiveness without overpowering your overall appearance is key to creating a modest bridal style with a dainty maangtikka like our Hiral Maangtikka. The focus will be on your small maang tikka, and by keeping the other components subtle, you'll create a stunning and elegant look that is guaranteed to leave an impression.
Sterling silver set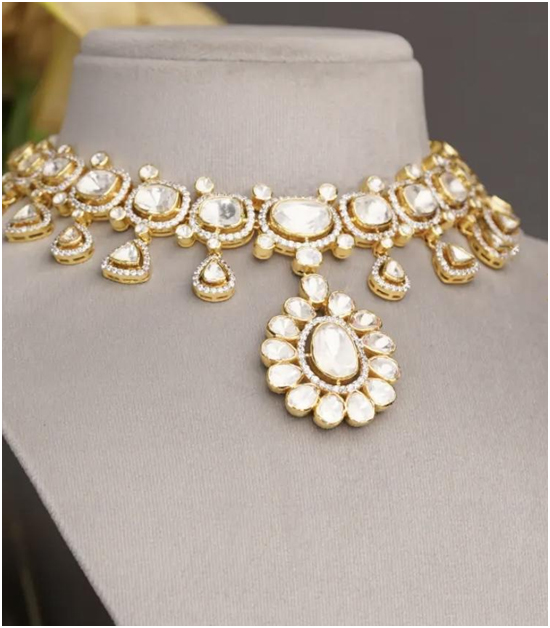 By combining the classic beauty and brightness of sterling silver with an understated and elegant aesthetic of moissanite polkis, you may create a modern minimal bridal look. Opt for clothing with a subdued color scheme so that the sparkling set may shine against an ideal background. And don't forget to keep your makeup fresh.
Heavier necklace with small earrings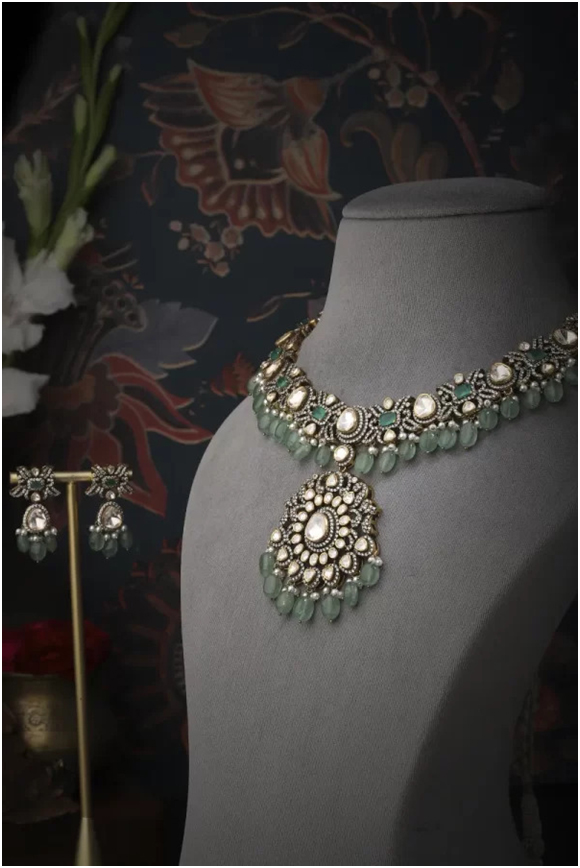 Choose a necklace that highlights the components, such as diamonds, polkis or other valuable stones like our Sharia Pendant Necklace Set. Wear your necklace with modest, little earrings that will blend in with the heavier necklace. The outfit will look great with simple stud earrings or drop earrings with just one stone or a basic pattern.
Statement choker with earrings and maang tikka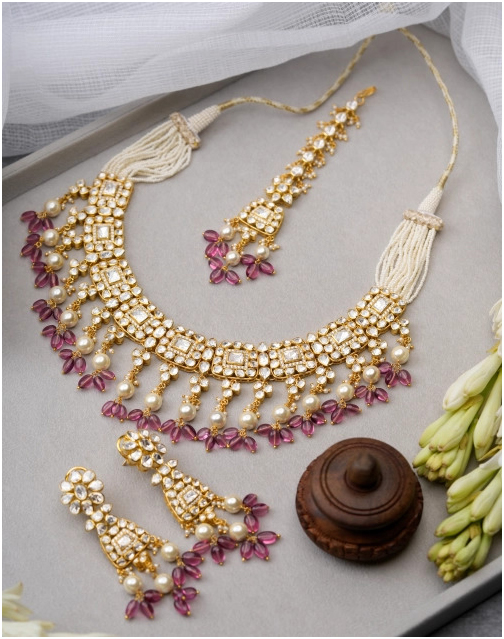 If you want to recreate Alanna Pandey's wedding look, pair a dainty maangtika with a statement choker and earrings. The simplicity of the choker design should be highlighted. Also, make sure the earrings match the choker's style as a whole. Last but not least, maang tikka should flow smoothly over your forehead. You can check out our Umarani Necklace Set that speaks for itself.
With the help of these pieces, you'll be able to create a modern minimal bridal look that reflects your style. Get in touch with us right away to view our enticing collection of modern minimalist items and accompany us in reinventing Indian wedding jewelry for the contemporary bride.