Indian bridal jewelry is a very culturally significant element of the nation's rich tradition. It has represented not just luxury and beauty, but also tradition and ceremonies for years. India's dynamic cultures have given a home to a profusion of bridal jewelry designs, each representing the region's particular customs. From the complex patterns of North India to the magnificent temple jewels of the South, each item offers a narrative of history, artistry, and compassion.
Continue reading to discover more about Indian bridal jewelry trends and what modern but traditional pieces to include in your wedding jewelry list to help you look your best on your big day.
Combination of traditional pieces with modern aesthetics
In the past few years, Indian bridal jewelry styles have experienced a remarkable metamorphosis, combining the eternal elegance of traditional pieces with contemporary designs. These trends represent shifting preferences and an urge to find a balance between heritage and modern preferences.
The global marketplace of Indian bridal jewelry continues to expand, providing women with a variety of options for expressing their uniqueness while honoring their cultural background, from metals and jewels to themes and workmanship.
What trendy Indian bridal jewelry should you include on your shopping list?
Bold chokers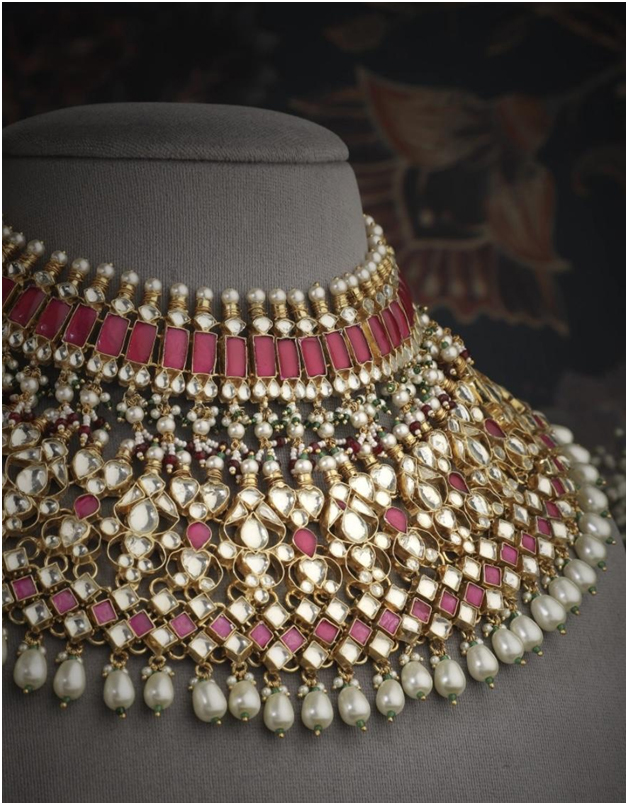 From lavish gemstone embellishments to themes inspired by ancient customs, bold chokers add a modern twist to the traditional notion of Indian bridal jewelry. As brides strive to strike a balance between recognizing their ethnic traditions and incorporating current fashion inspirations, our collection of chokers has arisen as an enticing option that communicates a tale of history and personal flair. You may combine a bold choker with a longer necklace, which is a great choice if you want to make a statement with your jewelry.
Layered necklaces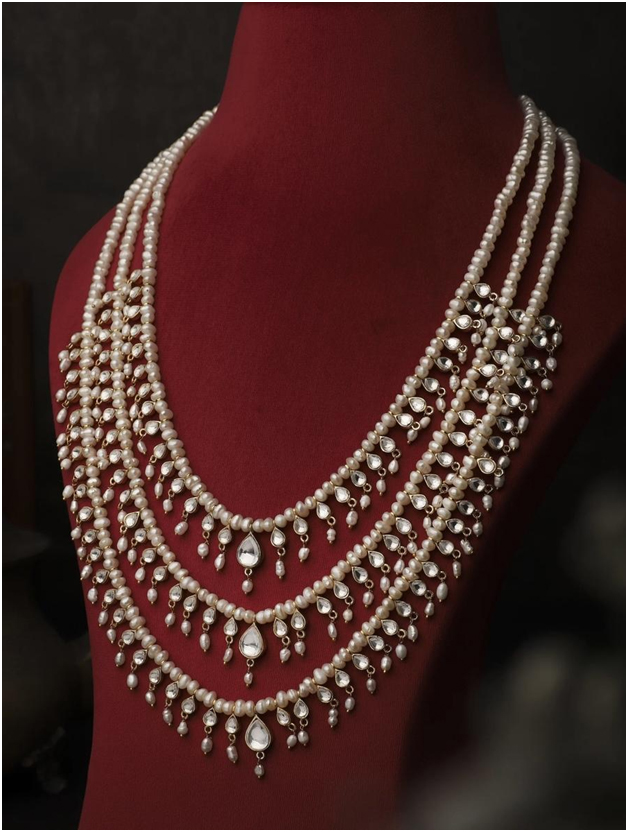 The Indian bridal layered necklaces exemplify a beautiful combination of traditional elegance and modern flare, providing brides with a compelling way to incorporate depth and elegance into their wedding attire. If you want to wear layered necklaces on your wedding day, we have a variety of haars or necklaces with several layers, such as Teenlada, Panchlada and Satlada haar. You may pair them with V-necklines, off-the-shoulder necklines, and sweetheart necklines since they allow you to show off many layers of necklaces.
Temple jewelry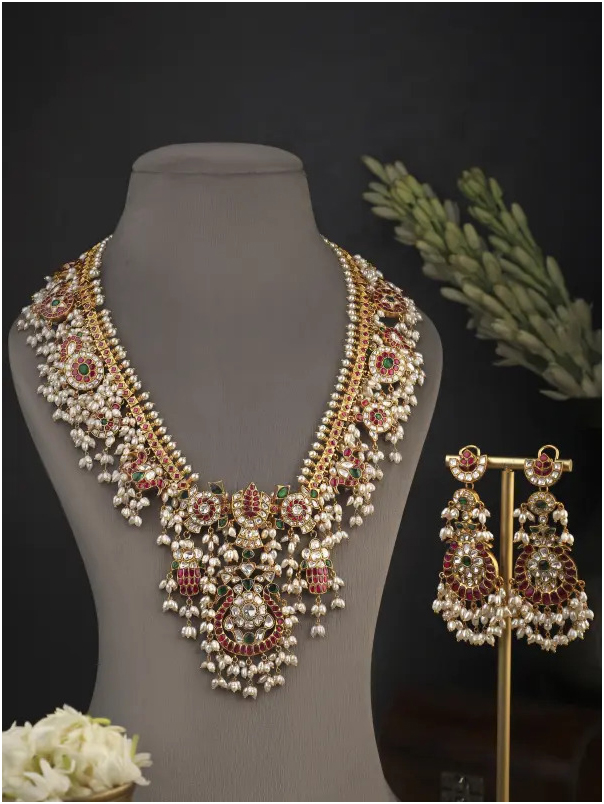 Necklaces, earrings, and bangles are embellished with elaborate deity designs and ancient Lakshmi patterns that give the bride's outfit a heavenly touch. Brides may easily incorporate this jewelry with traditional silk sarees, sumptuous lehengas, or even fusion outfits for a varied but rooted aesthetic. This combination of traditional design and modern designs is what makes temple jewelry so attractive to modern brides who appreciate both their cultural roots and their unique style.
Maang tikka with passa
While most brides choose either a maang tikka or a magnificent passa design, today we present to you a stunningly lovely combo – maang tikka with passa – that we're seeing a lot of nowadays. By fusing heritage and modern sophistication, our collection of maang tikka and passa creates a lovely expression of your cultural background and fashion-forward sensibility.
Hathphool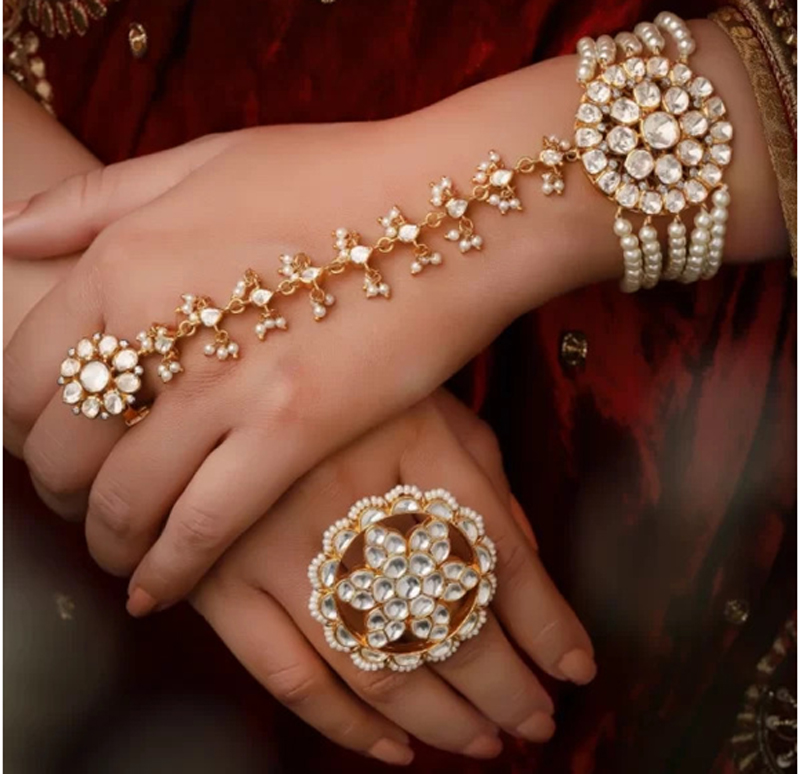 Hand harnesses or haath phools have become a compelling growing trend in bridal jewelry. These intricate hand adornments offer a touch of beauty, complexity, and cultural importance to a bride's entire appearance. If you're looking for a bridal hathphool, we have a selection that combines modern and classic design elements. Our Hazrat Hathphool is a perfect addition for a statement look. However, if you're looking for something traditional yet delicate, add our Padmini Hathphool to your wedding shopping list.
Trends in bridal jewelry have changed to match the shifting tastes and lifestyles of contemporary brides while preserving the eternal allure of traditions and every trend adds a distinctive and alluring charm to the bride's outfit. With the above-mentioned bridal jewelry trends, you'll be able to create a striking bridal appearance.
And if you're still confused, browse our collection of trendy Indian bridal jewelry.